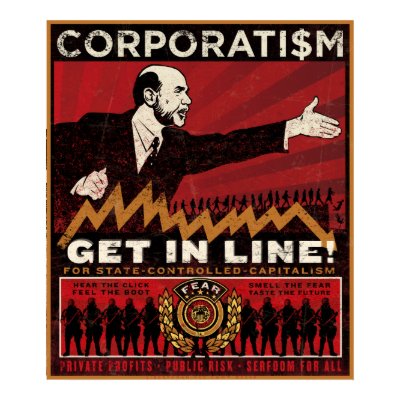 Corporatism isn't "Capitalism," it's Fascism.

The differences between

Traditional Capitalism

and

Modern Corporatism

may seem slight to the average ignorant American, but they are profoundly significant in every meaningful way!

Capitalism

is the process of

Individual Freedom

, acting within the lawful constraints of

The Free Market

, and dealing out punishment and/or reward based upon

Personal Initiative

. Whereas

Corporatism

is the process of

Collectivized And Governmentally Chartered Business

, acting without lawful consequence [or subjective liability] to

Socially Manipulated Markets

, and dealing out punishment and/or reward based upon purely

Political Criteria

.

Businesses cannot grow "Too Big To Fail" under

Capitalism

- where the size of every private company is quite naturally regulated by a man's [or certain group's] ability to raise his/her/their own necessary capitalization... where the

Finite Lives

of a company's private owners, are largely disruptive toward policies of negative social monopolization... and where the very real measures of legally quantifiable

Criminal And Civil Liability

, reinforce one's moral and ethical obligations toward overall society in general! This is the greatest verifiable strength of

Traditional American Capitalism

.

Meanwhile,

Modern Corporations

aren't in any way bothered by such burdensome and expressly

Capitalist Peculiarities

. They may gather all their necessary capital from largely

Absentee And Collectivist Owners

... their

Infinite Lifespans

virtually assure an increasingly monopolist position... and their lack of any

Social Liability

stiffens their natural resolve toward inherently psychotic and psychopathic behavior - with respect to any other humanitarian concern! This is the greatest verifiable weakness of

Modern American Corporatism

.

Moreover,

Corporatism

is the "Economic Engine Of Fascism." It cannot [factually] exist without

Direct Governmental Interference

- in officiating at its birth and thereby granting its newly obtained political charter... its inherently psychotic and monopolistic nature absolutely requires

Direct Governmental Involvement

- in what were once

Laissez Faire Free Markets

... and the centralization of such great wealth and/or economical power, inevitably exerts a further corrupting influence over every other aspect of a given society in general.

When "

Real Americans

" are discussing the relative values inherent in

Traditional American Capitalism

, they are not talking of lifting the necessary and useful constraints governing

The Modern American Corporation

. In fact, our nation would benefit greatly by immediately breaking them up, once and for all, and ending the unwarranted practice of ever allowing such charters to operate within the boundaries of our currently massive

Federalized Union

. Rather, we are talking about returning to the

Political Sanity

and

Inerrant Principles

- which generated more

Industrialized Wealth

, than the rest of our planet combined!

In only 100 years,

America

did what they rest of our planet took thousands of years to accomplish... and we started essentially from nothing. How were we able to do this? We did it with:

Hard Work

,

Ingenuity

,

Freedom

,

Brotherhood

, and

Equality

- under the law. We were first and foremost a nation of impoverished immigrants, holding on to nothing more than a dream. We set our eyes upon a glorious future... our hands to the tasks largely before us... our hearts upon the promises of a loving creator... and we never wasted our time in foolishly looking backward!

And yet, if

America

is going to have a sort of future at all, the time for looking backward is most certainly now here. For having turned

Substantially Leftward

over the last several generations, we have progressively painted ourselves into a very real corner. Our only hope as a: society, nation, and people is to return to the

Underlying Principles

, which preordained our factual greatness! It will undoubtedly work again, if we will put forward the necessary effort to do so. But, if we continue on upon our current political course, America will reap the consequential rewards more properly due us... and that, my friends, is a payment for which very few Americans are [quite honestly] prepared to cash it!

***

Note:

For more on the interconnectedness of "Capitalism and Freedom:"