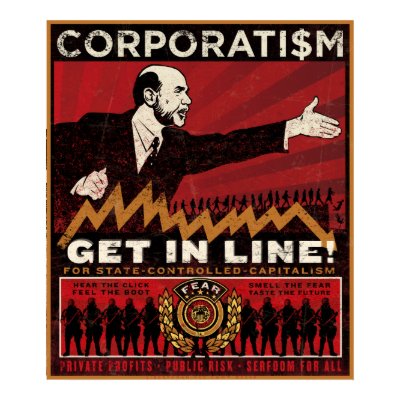 Corporatism isn't "Capitalism," it's Fascism.
The differences between
Traditional Capitalism
and
Modern Corporatism
may seem slight to the average ignorant American, but they are profoundly significant in every meaningful way!
Capitalism
is the process of
Individual Freedom
, acting within the lawful constraints of
The Free Market
, and dealing out punishment and/or reward based upon
Personal Initiative
. Whereas
Corporatism
is the process of
Collectivized And Governmentally Chartered Business
, acting without lawful consequence [or subjective liability] to
Socially Manipulated Markets
, and dealing out punishment and/or reward based upon purely
Political Criteria
.
Businesses cannot grow "Too Big To Fail" under
Capitalism
- where the size of every private company is quite naturally regulated by a man's [or certain group's] ability to raise his/her/their own necessary capitalization... where the
Finite Lives
of a company's private owners, are largely disruptive toward policies of negative social monopolization... and where the very real measures of legally quantifiable
Criminal And Civil Liability
, reinforce one's moral and ethical obligations toward overall society in general! This is the greatest verifiable strength of
Traditional American Capitalism
.